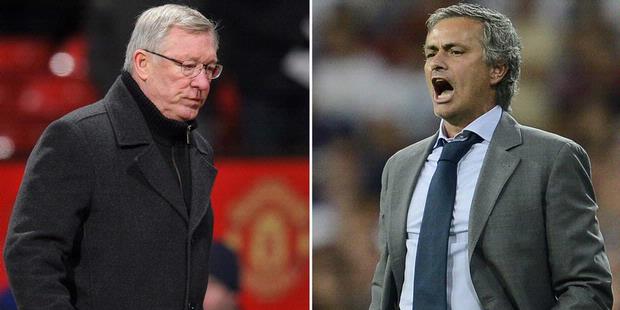 W-News
|
Madrid Vs Man United
| Champions League trophy is the only one who can save his face Real Madrid and Jose Mourinho of disaster dismissal at the end of the season. Target that is not easy and that's why the 'Special One penggawa best deployed.
"Two squad with bundles of potential talent. Biggest match in the Champions League and explain what is best in the world of football. We have long waited for this game and we want to show remarkable spectacle. Opponents also want to play a great game and I hope to give everyone what they want, "
he said at a conference Mourinhi conference at the Santiago Bernabeu Stadium on Tuesday (02/12/2103).
Talk to the best of course not separated from Cristiano Ronaldo. It was admitted by Mourinho.
"Cristiano Ronaldo is a tremendous football player I have. Ability well above average,"
said the 50-year-old Portugal.
Inevitably, only Iker Casillas predicted absent for this match. According to information from one of the team physicians Los Blancis to Kompas.com, Sunday (02/10/2013), Casillas has been undergoing light training after undergoing surgery to restore bone fractures palms.
"He is doing separate exercises with Senor Rodriguez (one of the doctors Madrid),"
said Arya Pradana Budiarto, Indonesia-born doctor who has the authority to give the green light fitness Madrid players at the last moment.
"Chances are, the new Casillas played during the second leg in Manchester,"
he added with a digital chat with Kompas.com.
San Iker's absence should not carry a big deal, considering there that replaces Diego Lopez. In addition, the flagship Los Blancos defender, Pepe, has dropped rink last week. Collaboration with Sergio Ramos expected to provide security for Mourinho in a match that is scheduled to be broadcast live SCTV, Thursday (02/14/2013), starting at 2:30 pm.
Plus, in the past eight meetings, Madrid won three matches, while Manchester United twice. More pursed, Mourinho appeared to have an impressive record over the Red Devils manager Sir Alex Ferguson. The Special One won six times, while Ferguson only twice, and the second in six games pembesut offset each other.
The statistics are certainly boost optimism Mourinho to present the trophy to La Decima alias-10 Madrid in the Champions League. It sedekade is El Real has always failed to feel the sweetness of the consecrated chalice kissing best clubs across Europe, which often also called the terwahid is under heaven.
"Neither Real Madrid nor I are equally benefited, having won nine and two (Champions League) so far. We want to win is the 10th and third. Akn I struggled for a third to get it. Optimistic with what I I was working and had no plans to retire just two Champions trophy, "
said Mourinho.
A determination that Madrid will showcase his ability, to beat Manchester United and for the champion title.
"We have lost the league title and we are still in the arena in which we can still win or not,"
said Mou.
On the other hand, the Red Devils had been wary of stretching Madrid. Ferguson obviously fearless and he had concrete reasons for it.
"We have a strong capacity to win the Champions League. Extraordinary spirit that radiates in every player," he said at a news Scottish media at the Bernabeu on Tuesday. "The real test is tomorrow and we have to pass if they want to win trophies."
To be sure, Ferguson certainly lost Paul Scholes. The veteran midfielder was left out in Manchester is due to injury. while Phil Jones and Jonny Evans will wait until the last moment of medical tests, to determine if fit enough to wade heavy match at the Bernabeu.
Most likely, the Red Devils had three of the most realistic option, which is targeting an away goal, draw or lose by a margin terminimal. Next, MU will maximize home games in StadionOld Trafford, which will be held in two weeks.
Plus, the Champions League three times was never lucky when it visited the Iberian Peninsula Affairs. Manchester United could only win two times in the last 20 trip to Spain, with the other 10 games to end the host advantage.
Does that mean the signal is brightly lit La Decima for Madrid?
Estimated Lineup
Madrid (4-2-3-1): Lopez; Arbeloa, Ramos, Pepe, Marcelo; Khedira, Alonso; Benzema, Ozil, Ronaldo; Higuain
Coach: Mourinho
Manchester (4-2-3-1): De Gea; Rafael, Vidic, Ferdinand, Evra; Carrick, Cleverley; Valencia, Rooney, Kagawa; Van Persie
Coach: Ferguson
Possible Absence
Madrid: Di Maria, Varane, Casillas (injury)
MU: Young, Scholes, Fletcher (injury), Jones, Evans (dubious)
Five Last Duel
23/04/2003 - Chelsea 4-3 Barcelona (UCL)
04.08.2003 - Madrid 3-1 Chelsea (UCL)
08.04.2000 - Madrid 0-1 Chelsea (UCL)
04/19/2000 - Chelsea 2-3 Barcelona (UCL)
04.04.2000 - Madrid 0-0 Chelsea (UCL)
Last Game Five Performance
Madrid: M-K-S-M-S
MU: M-M-M-M-S
Prediction
Bwin: 1,62 - 4.50 to 5.00
William Hill: 1,62 - 4.00 to 5.00
Compass Ball: 52-48