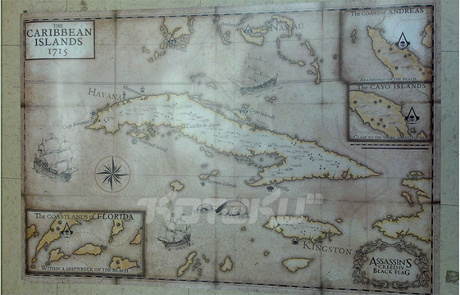 W-News
|
Leaked Assassin's Creed IV Start To Revealed
| Assassin's Creed III is actually only launched at the end of last year. But the successor leaked game made by Ubisoft is gradually revealed.
Information about the fourth installment of Assassin's Creed is obtained through an image map that allegedly the site of the game Assassin's Creed 4 later.
Leaked stronger when seen bottom right of the map that says Assassin's Creed IV Black Flag. Alleged Strong said the article is a theme that will be carried by the game developer Ubisoft Montreal filmed later.
When viewing the map, unlike Assassin's Creed III were told about the American Revolution as the location of the game, Assassin's Creed IV seems to be the theme of pirate adventure.
This is confirmed by the location of the game that are in the Caribbean islands and the last in 1715.
Quoted from Kotaku, on Wednesday (27/02/2013), unfortunately there has been no official confirmation from Ubisoft regarding the alleged location map image game sequel Assassin's Creed is continued.
But Assassin's Creed IV will supposedly have a number of new features as well as new characters. Also rumored Assassin's Creed IV will be released later than the end of March next year. Interested wait ?