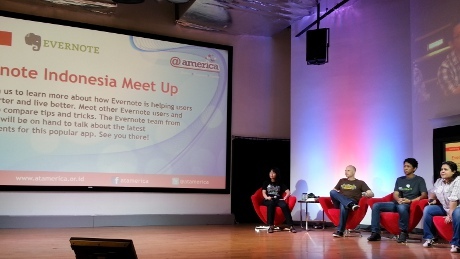 W-News
|
Evernote, Not Just Ordinary Cloud Storage
| So many cloud storage service that offers the advantages of each. However, most of these services focus more on cloud storage service for its users. Differences with Evernote offered.
The service is actually present it with a different style because it does not merely offer a cloud storage service. Through a number of tools on offer, Evernote users can directly enter their activities through the tools provided.
Evernote has provided a number of features that allow users to make a small note or a lengthy article though, take a photo or video of short duration, to make the recording sound. Of course, all this will be automatically stored in the cloud storage owned by Evernote.
But if the internet connection is deemed unstable, users can also store it in local storage, which will be synchronized automatically when the Internet connection is stable again.
It was confirmed Troy Malone, General Manager of Asia-Pacific Evernote, Evernote users will greatly facilitate the use of more than one platform, such as in smartphones as well as tablet computers hers.
"With Evernote, you will not be stuck on a platform. You do it on the PC, and check back through the smartphone. Very easy course,"
says Troy Evernote Indonesia in the event User Meet Up held at @ America, Pacific Place, Jakarta, Sunday (02.17.2013).