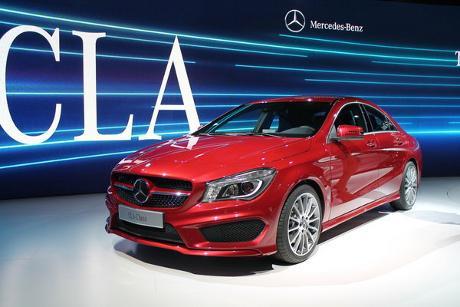 W-News
|
Meet The New Mercy ' Baby CLS '
| For fans of the Mercedes-Benz CLS variants may be one of the favorites variants are quite expensive though. Since the price was too many fans who could not get CLS, therefore, less expensive coupe variants were created.
The car, dubbed
'Baby CLS'
was named Mercedes-Benz CLA and demonstrated today at the Detroit Motor Show, the United States.
And after a long play in the rear wheel drive system-drive and all-wheel-drive, Mercedes-Benz are now opening up to start playing the system front-wheel drive or front-wheel-drive in America.
Varian
Mercedes-Benz CLA250
shown the German manufacturer launched with front-wheel-drive system drives even though they did not rule out the possibility to give birth CLA with rear wheel drive system-drive and all-wheel-drive in the future.
Birth of a compact coupe is like a drumbeat for war opponents such as the Audi A3 and the Acura ILX.
"Audi has proven that you can have a car front-wheel-drive in the luxury market. It has got the attention of BMW and Mercedes-Benz. You can sell a lot of front-wheel-drive cars in the world to drive really well,"
said AutoPacific Inc. product analyst Dave Sullivan, as quoted from the LA Times.
Mercedes-Benz says that the car was intended as an expressive sports car but still fierce.
"We think that the main target for this is people in their 30's and early 40's. We want to bring new people into the brand,"
said Steve Cannon, chief executive of Mercedes-Benz USA.
Mercedes-Benz will CLA250 powered 2.0-liter engine that is equipped with a turbocharged. With a four-cylinder engine was said to Mercy capable of spewing 208 horsepower and 258 lb-ft of torque transmitted to the front wheels via a 7-speed dual-clutch.
In the spring of 2014, said Mercedes will also offer 4MATIC CLA250. version of the all-wheel-drive with the same engine and transmission.
Cars were backed by 17-inch alloy rims also has standard equipment including the latest 5.8-inch display screen in the center console, sport-tuned suspension and Bluetooth connectivity as well as LED daytime running light.
In addition, CLA will also have features that assist collision prevention at speeds above 4 mph or 6 km / h can warn the driver of potential collision to come and be able to calculate in advance the appropriate braking force necessary to stop the car.
All this is then wrapped in a seductive futuristic body design with sloping roof line and is said Mercedes had the lowest drag coefficient of any production car available.