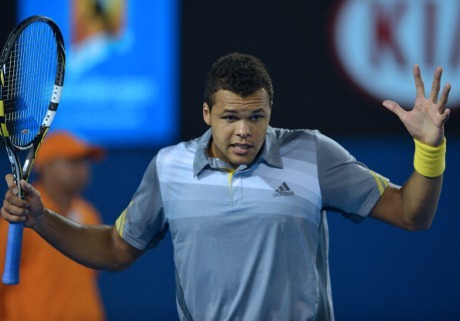 W-News
|
Tsonga: Hormones Make Tennis Girls Emotions So Less Stable
| Comment quarter-Australian Open 2013, Jo-Wilfried Tsonga, will inevitably invite controversy after he joked that the tennis player less emotionally stable than men's tennis.
Step Tsonga, seeded seventh at the Australian Open only to the last eight after he was eliminated by second seed Roger Federer.
The result was to make the semi-finals in the Australian Open men's sector will be filled by the four top seeds, the seed one Novak Djokovic, Federer, third seed Andy Murray and fourth seed David Ferrer.
Not so in the semifinals daughter. Although there are two top seeds, Victoria Azarenka and Maria Sharapova, two other spots filled by sixth seed Li Na, who passed the fourth seed Agnieszka Radwanska and 29th seed Sloane Stephens makes a surprise by eliminating third seed Serena Williams injured backs constrained.
"You know, the tennis player they are emotionally less stable than we were,"
Tsonga said when asked about the reasons why the top players can dominate men more than women, as quoted by Reuters.
"I'm sure all would agree - even the players own daughter,"
he said, laughing, before adding as claimed disapproval of women journalists,
"No. You do not agree?"
.
"It's just a matter of hormones and things like that. We (men's tennis) does not have anything like that, so we were more physically ready at all times and you (women) are not. Anyway,"
he continued as he showed off a big smile.