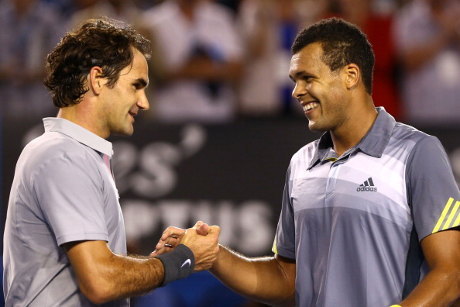 W-News
|
Federer Wins Five-Set Duel Against Tsonga
| Four-time champion Roger Federer getting fierce opposition from seventh seed Jo-Wilfried Tsonga in the quarterfinals. Federer was forced to play all five sets to beat Tsonga.
In the match at Rod Laver Arena ended Wednesday (01/23/2013) night local time, Federer struggled for three hours 34 minutes before winning the game with a final score of 7-6 (4), 4-6, 7-6 (4), 3-6 and 6-3.
The Swiss tennis player nicknamed this Mestro recorded six aces, 49 winners and 47 errors unforce. While Tsonga recorded 20 times aces, 66 winners and 61 errors unforce.
Federer, who qualified for the tenth consecutive semifinal at the Australian Open, this judge is a tough game and Tsonga played very well so it will be increasingly difficult to beat in the future.
"That was a tough and tight, of course, but a whole set of weight,"
said the winner of 17 grand slam titles this after the game.
"You know how he is a very nice service and how athletic he is. I think he's much better in returning the ball than in the past and it will make him more difficult to beat in the future,"
said Federer.
Federer will now face third seed Andy Murray, who in the previous quarter game successfully defeated Jeremy Chardy.