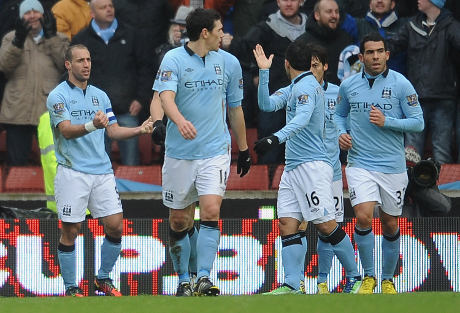 W-News
|
Despite Win, City Criticized Final Problem Resolution
| Manchester City made ​​it through to the fifth round of the FA Cup after removing Stoke City by 1-0. The Citizens have won more major assessed suppose not many wasted opportunities.
In the match held at the Britannia Stadium on Saturday (26/01/2013) night local time, City took 85 minutes to be able to score goals that brought them to step out of the fourth round. Pablo Zabaleta a team from Manchester's hero.
Existing City of statistics to master the game with 57 percent control of the ball plus made 15 shots on goal with eight leads. While Stoke only nine with four on goal.
If the City can finally win by scoring a clean sheet - even without Vincent Kompany was injured and had to be replaced in the 30th minute -, assistant manager David Platt satisfied plus Stoke at home is often difficult to conquer.
But Roberto Mancini's right-hand man complained of Edin Dzeko, Carlos Tevez and David Silva are often wasted opportunities in front of goal.
"We had a lot of chances, so we were disappointed not to win with a score larger but everyone knows this is a difficult place to conquer when (the host) is in the best performance. So we're very happy,"
Platt said at the team's official website.
"I think our defenders are very good today, and we did what we needed to meet for a dangerous Stoke-duel duel air, we were pleased to end the game without conceding."