W-News
|
Newest Menu From Starbucks
| At the most delicious cold sipping warm drinks. Create buff drink green tea or hot chocolate, can immediately drove to the nearest Starbucks. Global networked coffee shop is already preparing a new menu to accompany you during the rainy season.
It is a name synonymous with Starbucks coffee, so tea is not too much of a choice. But the outlets that have used the Starbucks logo Tea, Coffee, Spices and tea was again raised as a prima donna, since not everyone can enjoy the coffee.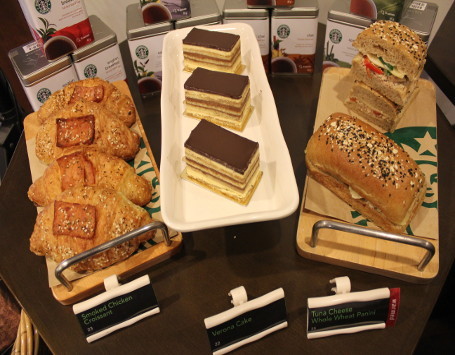 Introduction menu Winter Beverages, Food Indulgence, Whole Bean and Starbucks Coffees take place at Debenhams, Mall Lippo Kemang, Jakarta, on Wednesday (01/09/2012). On 8 January to March 4, 2013, you can enjoy a variety of drinks and food menu of this new series.
Winter brings Starbucks Beverages form Hojicha Tea Latte, Green Tea Latte with Espresso, and Signature Hot Chocolate. These drinks are very delicious when served hot or cold according to your taste.
Hojicha is Japanese macha or green tea that has been through the roasting process, so the color is more intense but no acid in the stomach. Starbucks brings Hojicha Tea Latte, tea hojicha which has a soft feel combined with milk, sweet and savory. Price for Tall sizes: Rp 36,000, Grande: 42,000, and Venti: Rp 47,000.
If you macha lovers and espresso drinks named Green Tea Latte with Espresso is perfect. When ordering you will be given a glass of green tea latte and an espresso shot to be mixed. Two of this material was making a strong flavored drinks but still delicious. Price for Tall sizes: Rp 36,000, Grande: 42,000, and Venti: Rp 47,000.
Besides tea, a cup of hot chocolate is a fitting companion. Typical premium chocolate from Starbucks has a sweet taste with a tempting chocolate aroma. Made from premium chocolate, milk, and a classic syrup, delicious drink is increasing with whipped cream and cocoa powder on top. Tall sizes Price: Rp 35,500, Grande: 39,500, and Venti: 44,500.
Besides winter beverages, in 2013 this Starbucks is also introducing three new food as a companion to your tea or coffee, among others Verona Cake (Rp 22,000), a soft, sweet layered pastry, Smokes Chicken Croissant (Rp 23.000) a savory sauce with slices of smoked stuffing chicken, and Whole Wheat Cheese Tuna Panini Sandwich (Rp 35,000), wheat panini bread filled with tuna filling and cheese mix.
To welcome the new year, Starbucks also introduced the Winter Whole Bean Coffees Guatemala Casi Cielo. This special coffee beans come from coffee plantations in Antigua, Guatemala as one of the producers of high-quality coffee beans.