W-News
|
Roy Suryo Become An Indonesia's Sports Minister
| After formally appointed by the President as the Minister of Youth and Sports (Affairs), Roy Suryo directly be the talk of the world of Twitter.
In fact, the politician from the Democratic hobby is collecting antique cars, was perched on the Trending Topic list that microblogging site.
Many Twitter who threw the election-related booms Roy Suryo. Ranging from standard comments to nosy, passing in the Timeline.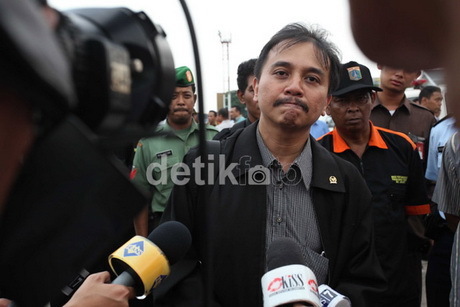 "Roy Suryo was the most delicious ministers Because many who doubted his capacity. If it works a little bit, he can pat hand,"
said @ Nukman, social media observer's account Nukman Luthfie.
"Roy Suryo can invite youth loves sports, online gaming, IT,"
added @ Alex_Junaidi.
"Conscious of low value. Maximum cm so gang name. Yg important 'know yourself',"
said @ sudjiwotedjo, related to Roy's comments are conscious many.
Even more comments about Roy Suryo tweeps. Indeed chirp-chirp has been busy since yesterday, after giving Democrats an internal leak.
But comments on Twitter about Roy Suryo more profusely after the news of President SBY sure where to mention that Roy Suryo will fill the seat Affairs replace Andi Malarangeng.