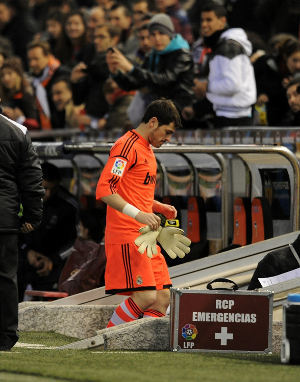 W-News
|
Real Madrid Without Iker Casillas
| Iker Casillas had to pull over due to long injury. Xavi Hernandez Casillas judge's absence was a major blow to Madrid as well as a loss also for the Spanish national team.
Casillas has just had surgery to fix the bone of his left thumb was accidentally kicked cracked due Alvaro Arbeloa in the second leg quarterfinal cons Valencia two weeks ago. As a result the 31-year keeper had to pull over for about three months.
Span a long time off Casillas is certainly bringing negative effects to Madrid that must pass heavy game match for the captain was absent as three times the El Clasico match as well as the last 16 of the Champions League Manchester United counter.
Injury Casillas Xavi was invited comments, which even the rival club, but both players were best of friends off the field and also in the Spanish team. Xavi assess the loss Casillas makes Madrid will be without life, though Cristiano Ronaldo is a goal machine for Los Blancos this.
Plus the absence of Casillas also increasingly made its season run is not the issue either less harmonious relationship with Jose Mourinho.
"The injury is a problem. Madrid and he is the captain of their lives. This is a serious injury for Real Madrid and the national team,"
said Xavi as reported Soccernet.
"I have a lot to say to him. We've exchanged messages, mutually reinforcing. I give her support at this time, such as when the coach does not play as a starter,"
he continued.
"They (Madrid) will be left Casillas two months, which he is very important for Madrid and the national team. Than that I can not comment further,"
said Xavi.