W-News
|
Bryan Twins, Most Successful Men's Doubles Grand Slam
| Twins Bob and Mike Bryan became the most successful men's doubles pair in the history of Grand Slam doubles title after winning the men's Australian Open 2013.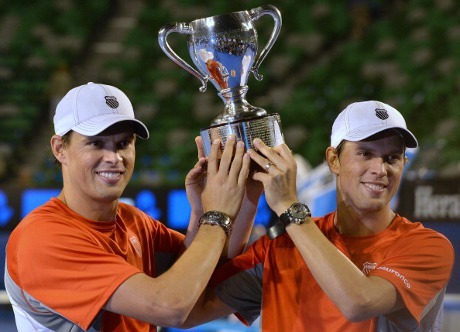 The 34-year-old couple from the United States appears to be champions after beating Dutch pair Robin Haase / Igor Sijsling, Saturday (01/26/2013) night local time, 6-3, 6-4.
The result left the Bryan twins have now been collected Grand Slam title to-13, aka breaking the previous record for largest number of degree, 12 degree, who held the men's doubles pair from Australia, John Newcombe / Tony Roche.
"Of course it was a lot of fun to carve the record and can be a part of history feels very special,"
said Mike Bryan at Reuters.
"On the field we do not think much about it but now we'll look back on our careers, it would be nice to see what we have done. This is an important record,"
he continued.
Title is the title of the 84th in the career of the twins and two grand slam titles in a row for them after winning the U.S. Open last September.