W-News
|
Blueberry Cheesecake Everest. Hhhmm Yummy
| Stop by to see where this could go crazy gorgeous cakes arranged in a display. There petit fours, mini quiche, rainbow cake, cake slice up various mont blanc 7 series are pretty tempting cake. Enjoyed with a glass of fresh fruit juice, dietpun was not so chaotic.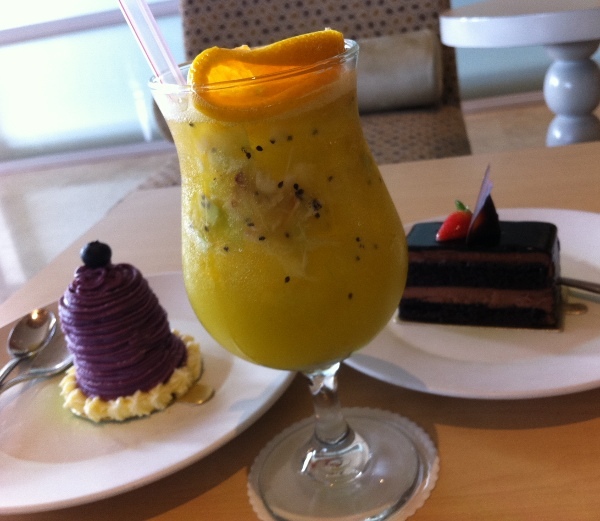 Earlier this year a resolution of lean body must begin with the spirit of running. However, when tempted to stop at Alba Fattoria bakery located at Jalan Barito II, a different story. As the door opened, a glass cabinet in the middle area has a view of tempting. Assorted cakes and pastries laid out pretty neat.
Too bakery bistro atmosphere that it feels fresh with a touch of white the dominant color. Desk chairs and sofas with bright colors to make the atmosphere so festive and warm. Certainly tempt me to sit down for a moment enjoying the afternoon.
Godaanpun begins when examined individually cakes and pastries on display. There is a cake cut like opera cake, rainbow cake, red velvet cake, apple tart and a variety of petit fours, cut the cake in miniature. On the other hand there is a wide selection of mini quiche with various fields such as spinach and honey chicken. Small cake with crunchy salty flavor typical Frenchman could be an alternative if you like the taste of savory.
Finally a piece of Chocolate Cake Eggless (Rp 19,000), Banana Jalousi Mini (U.S. $ 6,500) and Blueberry Cheesecake (Rp.33.000) so friends for an afternoon snack. The atmosphere is calm and comfortable made me more eager to enjoy an afternoon respite. Its attractive appearance Blueberry Cheesecake, did not constitute plain piece of cake but it is shaped like a mountain.
If I remember correctly this cake is one of the Mont Blanc of 7 cake specially made. At the bottom there are biscuits crispy, while the cream cheese dough is made fresh blueberries mixed looming. Then the circumference covered with pastry dough pretty soft purple.
In one mouthful this cake was soft. Fresh sour taste blueberrynya collided with cream cheese. There was no trace of a dominant sweet, soft feel natural. Similarly, when I tasted Eggless Chocolate Cake. Cake is in the form of sponge cake with layers of chocolate mousse that gently browned.
Although no eggs, soft texture, and the more special it was not too sweet. Was concentrated predominantly brown and soft tongue rubbed. Thus even this instant cake completely from the plate.
Banana Jalousie is really tiny, so bribery, typical French petit fours. The color is light brown slightly damp with a slice of banana coated caramel topping and white chocolate decorations were gorgeous. Ah, come on cake with banana flavor and aroma is caramel directly into the mouth. It feels soft and no sweet taste belebihan so I can enjoy the natural flavor of bananas.
Glass of Spring Savana (Rp 29,000) are fresh orange into a suitable friend for the sweet snack cake. A mixture of orange, kiwi, and lychee ice cubes are crushed with this natural fresh sweet taste. I deliberately choose a variety of fresh fruit for not too many calories.
O, yes if you want to eat there is also a full menu. Ranging from sandwiches, panini, salads, rice Bali to Thai beef salad. The dining room on the second floor comfortable also be Jaid choices for lunch and dinner. O, yes here also ordered a variety of fresh flowers and fresh fruit choices available. It seems that this place can I enter the list to enjoy a fun tea time!
Alba Fattoria
Jalan Barito No. II. 35th
South Jakarta
Phone: 02172790315/72790371