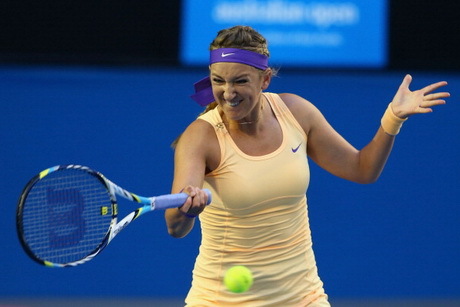 W-News
|
Victoria Azarenka Winner Of Australian Open 2013
| Victoria Azarenka finally came out as the winner in a fierce duel against Li Na in the final of the Australian Open 2013. Women's singles world number one had successfully defended his title.
Duel Azarenka versus Li at Rod Laver Arena, Saturday (01/26/2013) evening local time, run exciting as 2 hours 40 minutes. Got lost in the opening set, Azarenka finally able to overcome his opponent and won 4-6, 6-4, and 6-3.
In the opening set, Li is really troublesome Azarenka. Blows across the released Chinese player makes Azarenka struggled. Li won 6-4.
Azarenka improved in the second set and a 3-0 lead immediately. Although Li was the score to 4-4, he had raced again and win 6-4.
Entering the third set, Azarenka came back from 1-2 can turn things around and hold it away before winning 6-3.
With this victory, meaning Azarenka managed to defend the title he won last year. This is also the second Grand Slam title to Belarusian tennis player was.
Meanwhile, for Li, this defeat made ​​two unsuccessful attempts in the final of the Australian Open. In 2011, he drove to the top of the party, but lost to Kim Clijsters.