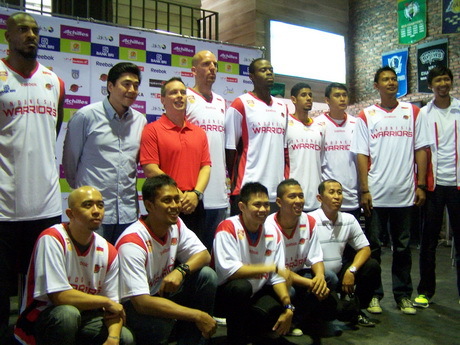 W-News |
Meet " Indonesia Warrior " Team For ABL 2013
| In a few days, the ASEAN Basketball League (ABL) season four will begin. Related to that, the defending champion Indonesia Warriors team that will introduce them rely on this season.
Warriors will start their work in the ABL this season to face the team they beat in the final last season, San Miguel Beermen. This exciting match will be held at BritAma Arena, Kelapa Gading, North Jakarta, Friday (11/01/2013) evening hrs.
Faced with this season, the Warriors will still use the services of coach John Todd Purves. Coach from the United States it will be accompanied by two assistants, Word Muljono and Cokorda Raka Satrya Wibawa.
In the lineup, there are a number of changes. No more name Evan Brock, ABL Finals MVP last season, in the list of foreign players. Instead, some new faces recruited.
Warriors bring in Chris Daniels (USA) and Richard Michael Smith (Philippines). They also bring players born in California, John Smith, to cover the absence of the injured Stanley Pringle. Daniels, Richard Smith, and John Smith will be joined by two other foreign legion, Steven Uy Demon Thomas and Jerick Canada.
Warriors also adjust to the new regulations related to Heritage Player. They recruit players Indonesian-Dutch descent, Swen de Ruijter.
For local players, the Warriors maintained Mario Wuysang, Amin Prihantono, Donny Ristanto, and Christian Ronaldo Sitepu. Two new recruits name was Augustine Augustine Tjaswadi Indrajaya and Frans.
ABL 2013 season will be followed by six teams, the Warriors, Beermen, Westports Malaysia Dragons, Singapore Slingers Jobstreet.com, Saigon Heat, and the Chang Thailand Slammers.
Each team will play each other four times in the regular season. The four best teams going into the playoffs, which will use the system in the best of five semi-finals and final. The competition will begin in January and is scheduled for completion in June.
ABL Warriors Roster for 2013:
1. Richard Michael Smith
2. Mario Wuysang
3. Uy Jerick Canada
4. Swen de Ruijter
5. Demon Steven Thomas
6. Amin Prihantono
7. Donny Ristanto
8. Vondrell Christopher Daniels
9. Christian Ronaldo Sitepu
10. Augustine Indrajaya Saputra
11. John Albert Jr.. Dudley Smith
12. Stanley Pringle
13. Frans Augustine Tjaswadi