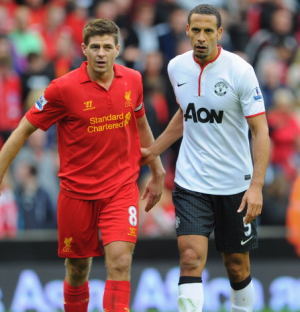 W-News
|
Tonight Statistic Between Manchester United And Liverpool
| Rivalitas of history making meeting Manchester United and Liverpool are always interesting, even if their position is different this time: Manchester United at the top, Liverpool ranked eighth, with a distance of 21 points.
Here are some interesting notes related to duel two teams tonight, Sunday (13/01/2013), at Old Trafford, as summarized from the BBC:
- MU won seven of the last eight meetings against Liverpool at Old Trafford. The exception was in March 2009, when they lost 1-4 from the Reds.
- Of their last 24 games in the league, only two of which ended in a draw. And the last draw took place at Old Trafford in March 2000.
- Manchester United are targeting two wins over Liverpool in a league season after the 2007-2008 season. In their first meeting this season, Manchester United won 2-1 at Anfield on 23 September.
- MU won eight of his last nine games in the league (W8, D1).
- They have conceded 28 goals this season. Just last week they could not conceded a row, which beat West Brom 2-0, then beat Wigan 4-0.
- Robin van Persie had packed 64 goals in 76 appearances in the Premier League since January 2011. He had to gain 16 goals from 18 matches in the league with the "Red Devils".
- If Ryan Giggs played a record round appearances in the league with Manchester United to 650 matches.
- Manchester United are unbeaten in his last 21 home games in January, winning 16 of the last. The last time they lost a league game in January was against Liverpool on January 22, 2002. Danny Murphy was the lone goal scorer in the game.
- Nemanja Vidic's red card three times in the history of the encounter against Liverpool. No other player who has a record in the history of the Premier League.
- Liverpool won five of the last seven games in the league (W5, L2).
- Since the beginning of December, the Reds collect 15 points. Only Manchester United (19) and Tottenham Hotspur (16) who earn more points.
- However, Liverpool have not won in the last 10 parties occupants against clubs in the top 10 this season (D5, L5).
- Liverpool have produced 11 goals in his last four games in the league, five of them through Luis Suarez. Uruguay international striker has now collected 15 goals in the 2012-2013 season, the highest in Liverpool since Fernando Torres carve 18 goals in the 2009-2010 season.
- Steven Gerrard has made eight assists in the league this season. Achieving best is 9 assists in a season (2008-2009). He has also passed his assists total achievement in the last two seasons.
- Gerrard has scored five goals in seven games in the league final against Manchester United.
- Stewart Downing headed to 299 appearances in his career in the Premier League, while Martin Skrtel will melakoni to-200 with "The Red".