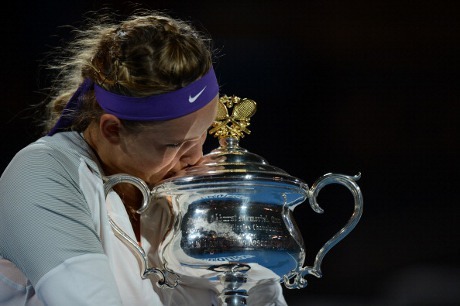 W-News
|
The Winner Of Autralia Open 2013
| Autralian Open 2013 is not the first Grand Slam event won by Victoria Azarenka. Still, his success this time disarati emotion.
Azarenka managed to steal second grand slam title of his career after beating Li Na in the final of the Australian Open 2013, Saturday (26/01/2013) evening hrs.
Last year, a similar title successfully disabet world number one tennis player after defeating Maria Sharapova at the top of the party. Than when it reached her first grand slam title last year, the second title this time is no less emotional for Azarenka.
"I think there is everything. Emotions, relief, happiness. You never know what to respond. This comes from the heart,"
he told Channel Seven was quoted by Reuters.
Feelings of
"mix-mix"
that hit it Azarenka may not escape the criticism he received when designated Sloane Stephens in the last semi-final party. At that time the Belarusian players criticized after asking for a medical time out at the crucial moment, which is accused of deliberately Azarenka did to ruin the momentum of his opponent.
"This has been tough weeks.'s Very emotional. Unfortunately you have to go through a difficult road to achieve great things, that's why it was very special for me after going through all that."
"And luckily I can now kiss the beautiful trophy,"
said Azarenka.