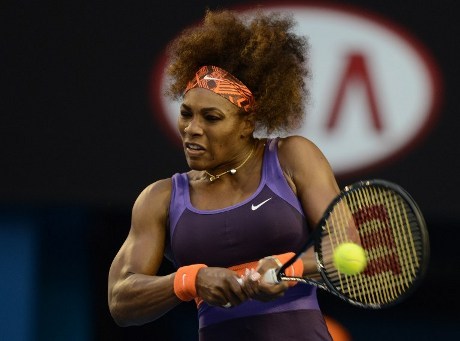 W-News
|
Serena Too Tough To Kirilenko
| Serena Williams continued on in the Grand Slam Australian Open to get into the quarterfinals. He did not have much trouble to stop fighting Maria Kirilenko in the round of 16.
In the match at Rod Laver Arena that finished on Monday (01/21/2013) afternoon local time, which is the third-seeded Serena won in straight sets 6-2, 6-0 win over Kirilenko in a match that lasted 57 minutes.
In the first set, Serena broke Kirilenko in the fourth games to lead 3-1. Kirilenko had cut the gap to 2-4, but Serena kept going and took the first set with 6-2.
Serena increasingly unstoppable in the second set. Owner of five Australian Open titles does not give an opportunity to Kirilenko and won the set by 6-0.
"I did not play very well. When I saw I had a percentage of 95% for first serves in the first set, I thought 'wow, who is this woman?'"
Serena said as quoted by the BBC.
In the quarterfinals, Serena will face the United States more, Sloane Stephens. He escaped after the win over Bojana Jovanovski 6-1, 3-6, 7-5.
"I thought he played well. We face each other two weeks ago in Brisbane, he plays well. I think he is a player with incredible talent and I admire it.'s Going to be a tough game for me but I have nothing to lose,"
added Serena.