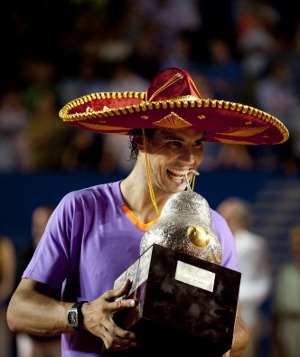 W-News
|
Nadal Victory In Mexico
| Rafael Nadal continued his comeback success. The Spanish left-hander won the Mexico Open 2013 after winning a landslide victory from compatriot David Ferrer.
Shown as the second seed, Nadal won the first eight games and it only took 65 minutes to beat Ferrer 6-0 6-2 in the final which ended on Sunday (03/03/2013) noon CST.
Championship title is the second for Nadal in Mexico after 2005 and reached the second title after returning from an injury that kept him sidelined long.
In the tournament
"debut"
of his, Nadal lost in the final of Chile Open. Even so, in the next tournament's 26-year successful tennis player won Brazil Open.
Meanwhile, for Ferrer, the defeat dashed his ambition to continue the trend this tournament since 2010. This defeat also exacerbate record her meetings with Nadal, who is now 4-17.